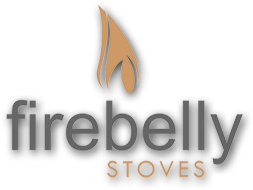 Love Your Firebelly
After purchasing your Firebelly stove, it is important to look after and maintain it so that you can get the full benefits that it offers. The steps listed below will enable you to look after your stove and make it last for years to come...
To prolong the life of the firebrick linings, be sure to have the occasional small fire even through the summer months or when your Firebelly isn't in use.
Firebelly woodburners have unique Air Shield technology which enables the glass to stay clear. However, burning wet wood and poor quality fuels may leave tar and soot deposits on the glass.
If you are getting smoke into your room, this is an installation issue and not a problem with your stove. This can be caused by down draught. Your HETAS installer can rectify this.
We recommend the following woods as the best type for your Firebelly. Always ensure they are well seasoned, better still kiln dried : Oak, Ash, Birch, Hazel, Hawthorne and Rowan.
When loading your Firebelly, please be sure to place the logs in the firebox carefully so as not to damage or weaken the firebrick linings.
Never use a damp cloth or any type of detergent to clean or lift marks – just use a soft, dry cloth. The specialist paint will react with any moisture.
Run your stove in - When your new Firebelly arrives, it is very tempting to light a big fire and sit back and enjoy your Firebelly but you should be gentle with your Firebelly and start with small fires. Wood burning stoves burn at very high temperatures and all the components of your stove need to bed in. Start by lighting smaller fires and gradually increase to a large roaring fire, that way wood burning stoves last a lot longer.
You should have your chimney swept at least once a year. If you have a sealed flue pipe system your flue can be swept through your stove or for ease of access you can purchase stove pipes with access doors.
We recommend that all our stoves are installed by a competent HETAS approved fitter - contact us for details.